A branded WordPress website for New Lifestyle Company.
Category
 Website Parallax
WordPress,
Hosting
YACHTS & YACHTING THE
NEW STATUS SYMBOL
Blue Mile is a Chennai Based Company. They Provide Yachts, Clubs and Resorts.
+ Brand Development
+ UX/UI Design
+ Front-end Development
+ Copywriting
+ Shopify Development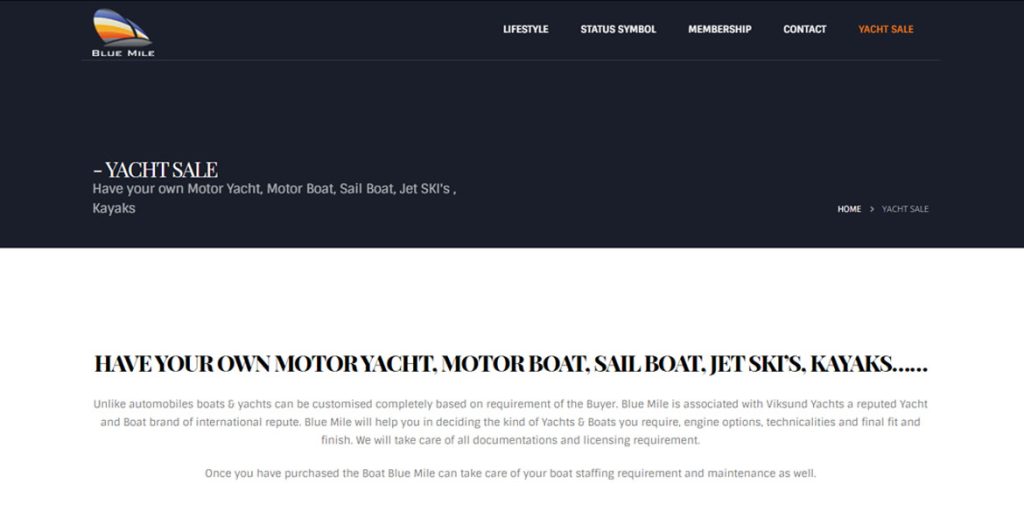 Visual and typograpy
hierarchy
Visual hierarchy is the principle of arranging elements to show their order of importance.Designers
structure visual characteristics—e.g., menu icons—so users can understand information easily.By
laying out elements logically and strategically, designers influence users' perceptions and guide
them to desired actions. Users notice larger elements more easily can convert. Body                      assistant-semibold,sans-serif;
Body                      assistant-semibold,sans-serif;
Heading,h1 tag    raleway,sans-serif
Heading h2 tag   raleway,sans-serif